Hello everyone!, peabody"s here and I want to talk to you about one of the consoles i grew up with, on 2001 a new portable system from nintendo was released, this console was named Game Boy Advance, this console was received very well and many, MANY games were made for this console, and im counting to top 10 GBA games!.
Number 10.
In 2001, when the Game boy advance launched, there was some launch titles that were avaibable the same time the Game Boy Advance came out, one of this is a nostalgic and particular remake...
SUPER MARIO ADVANCE!!!!!!!
Number 10:Super Mario Advance
Now THIS is a remake, Super Mario Bros 2 got incredibly
improved thanks to this game, not
only was the original "Mario Bros" included
within this game, but many other things and challenges, truly a fun game,
this is the first AND not the last Super Mario Advance game on this list, but ill save that for later...




Number 9:


Pokemon is famous because of all the pokemon spinoffs, many of
them include Pokemon Ranger, Pokepark and...
POKEMON MYSTERY DUNGEON: RED RESCUE TEAM!!!
Number 9: Pokemon Mystery Dungeon: Red Rescue Team.
This game is just so awesome to even describe, the gameplay is pretty fun and progress through the dungeon is so mysterious and fun, the story is amazing through the next PMD story was even better, the replayability and just overall the fun to be had put this game in the number 9 spot.
Number 8:
Remember how i mentioned that other Mario Advance games are going to be in this list?, well, the Number 8 belongs to one of this games, this is...
SUPER MARIO ADVANCE 2: SUPER MARIO WORLD!!!
Number 8: Super Mario Advance 2
Again with the good remake thing, with "Mario Bros" in it you can get distracted and the multiplayer is fun, the game itself has been graphically
improved to look insanely better and some small things have been upgraded, if you want a portable version of Super Mario World, enjoy!.
Number 7:
After the awesomeness that was Super Metroid, nintendo began working on a sequel, boy it took a lot of time to release it, but when it came out it was so awesome!!!
METROID FUSION!!!!!!
Number 7: Metroid Fusion
Now this is a good game, the gameplay is still really good but non-linearity was really something diferent, that doesnt mean its bad but it was diferent from the other metroids, the game itself is good, the story is amazing and the sound effects are pretty satisfiying, this game"s replayability puts it on the number 7 spot.
Number 6:
Oh kirby..., how much joy have you bringed into my childhood..., well there were 2 diferent kirby games in the Game Boy Advance, one was a remake of Kirby"s adventure on the NES, and the other one was called...
KIRBY AND THE AMAZING MIRROR!!!
Number 6: Kirby and the amazing mirror
This game is the black sheep of the kirby games, having an enphasis on exploration, but the way the exploration is handled is actually really weel, the soundtrack is memorable, the copy abilities are pretty good and the multiplayer is so much fun!, if you want something diferent but still amazingly fun, check out Kirby and the amazing mirror.
Number 5:
Remember how freaking criptic the first metroid was?, well after a lot of thinking, nintendo decided to remake it, but my god this REMAKE IS SO GOOD!!!!!!!!!!!
METROID ZERO MISSION!!!!!!!!!!
Number 5: Metroid: Zero Mission
Again with the remakes..., but this one does really change the game in many ways, many new items were included, the story was improved and the controls were SO much better!, there are many diferent places and things look so much better now!, JUST, PLAY, THIS.
Number 4:
Can you think of one of the best games of all time?, can you think on any way of improving it or making it avaibable to other generations?, well if you do, meet...
SUPER MARIO ADVANCE 4: SUPER MARIO BROS 3!!!
Number 4:Super Mario Advance 4.
I dont think i have to say anything, one of the best games of all time, better graphics, portability, e-reader levels(if you dared to buy one) and just SO MUCH FUN!!!
im sorry i dont have anything to say but this is just.. wow...
Number 3:
This game..., just..., this game... NOSTALGIA!!!!!
POKEMON FIRERED AND LEAFGREEN!!!
Number 3: Pokemon Firered and Leafgreen:
This game is an amazing remake of Pokemon Red and Blue, the graphics are now incredibly improved, the gameplay mechanics were updated to be like Pokemon Emerald, some new places and cameos were added, and with the new Sevii island there are MANY things to do, it is also a lot of fun to play with friends, give it a shot!
By the way there is a photo of pokemon firered because i grew up with Firered.
Number 2:
Now if you like multiplayer games, just check out...
MARIO KART: SUPER CIRCUIT!!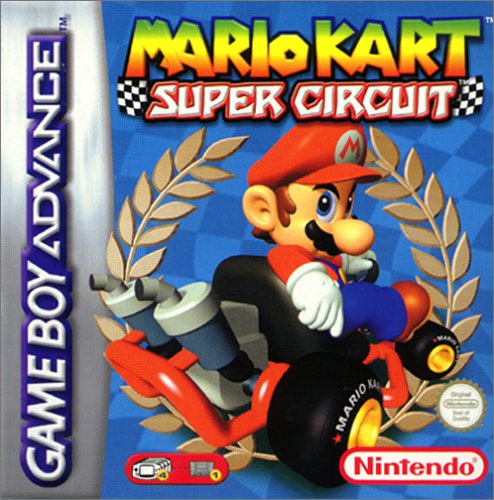 Number 2: Mario Kart Super Circuit
This is one of the best mario kart games, there are just so many tracks, not only 16 normal tracks, but all the Super mario kart tracks as well, the multiplayer is insanely fun, it looks nice, is a lot of fun and the game itself is so enjoyable!.
Now, what game is the best game in the GBA library...
THIS IS...
POKEMON EMERALD!!!!!!!!!!!!!!!!!
Number 1: Pokemon Emerald
Remember Pokemon Sapphire?, well this improved over on Sapphire, everything is better here, with a new and replayable Battle frontier, many diferent things were added, truly one of the best portable games ever.
-See you later guys!!!
-Peabody.
COPYRIGHT POKEMON EMERALD, POKEMON FIRERED AND LEAFGREEN, MARIO KART SUPER CIRCUIT, SUPER MARIO ADVANCE 1 2 3 and 4, METROID ZERO MISSION, METROID FUSION, KIRBY AND THE AMAZING MIRROR AND POKEMON MYSTERY DUNGEON
DO NOT BELONG TO ME.